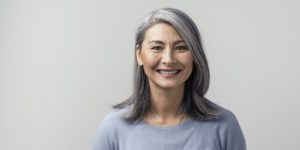 You don't want others to know about your tooth loss, but you're far from being alone in this experience. More than 120 million people in the US are missing at least one tooth, and more than 36 million don't have any natural teeth left in their smile! Are you one of them?
If you've worn dentures for a while, perhaps you've convinced yourself that you're used to how they feel. Or perhaps you've told yourself that dentures are the best you can expect. But the truth is that there's another option available to you. Dental implants make a world of difference and have truly life-changing benefits. Read on to find out what those benefits are!
Strong, Stable Bite
If you have ever worn dentures, you know the feeling of your prosthetic teeth slipping out of place when you eat or speak. Unfortunately, this happens frequently with traditional dentures. Slipping dentures make it difficult to eat nutritious foods, which are often hard or fibrous. In fact, dentures only restore at most 30 percent of your original biting force, limiting your diet. Without the proper nutrition, you may face other medical issues; studies have shown that those who wear dentures tend to live about 10 years less than those who don't.
On the other hand, implant dentures give you about 70 percent biting power, enabling you to continue a healthy lifestyle. As a result, you can stay better nourished and set yourself up for better long-term well-being.
Confidence to Smile
When you're constantly worried about your replacement teeth slipping, you may not wish to show off your smile as readily as you did before tooth loss. After all, you don't want to be embarrassed by your dentures. However, implant dentures are firmly attached to the jaw bone just like real teeth. As a result, they look and feel completely natural, which means you can easily eat and talk in public without worrying about your teeth coming out. For someone who has experienced losing teeth, this confidence is priceless!
Youthful Facial Structure
Did you know that when a tooth is lost the jawbone underneath withers away over time? Traditional dentures simply rest on top of the gum tissue and do nothing to stop this process. That's why so many denture wearers have a more sunken facial shape.
The good news is that implants keep the jawbone healthy and strong, which means you can hold onto your youthful profile for much longer.
Bonus Benefit: Warm, Safe Environment
In addition to enjoying all the advantages of dental implants, when you choose a practice like Gentle Dentistry Sparta, you can get implant treatment in a warm, welcoming, and safe environment. We pride ourselves in creating a space that helps you feel right at home from the moment you walk through our door. As always, safety is our first priority, and we continue to protect both our staff and our patients.
Ultimately, the choice between dentures and implant dentures may seem small at first glance, it can have an incredible impact on you. Consider these benefits and think about what you could do with a healthy, strong smile for decades to come!
About the Practice
At Gentle Dentistry Sparta, Dr. Zelia Cannon and Dr. Alena Ragheb Agha find great satisfaction in providing outstanding care in our comfortable office. We go above and beyond to make sure every patient feels welcome and at ease. Our highly trained dentists have unique backgrounds but share a passion for changing lives for the better through high-quality services, such as dental implants. Would you like to learn more about implant dentures? You can contact Gentle Dentistry Sparta through our website or by calling 973-729-9044.