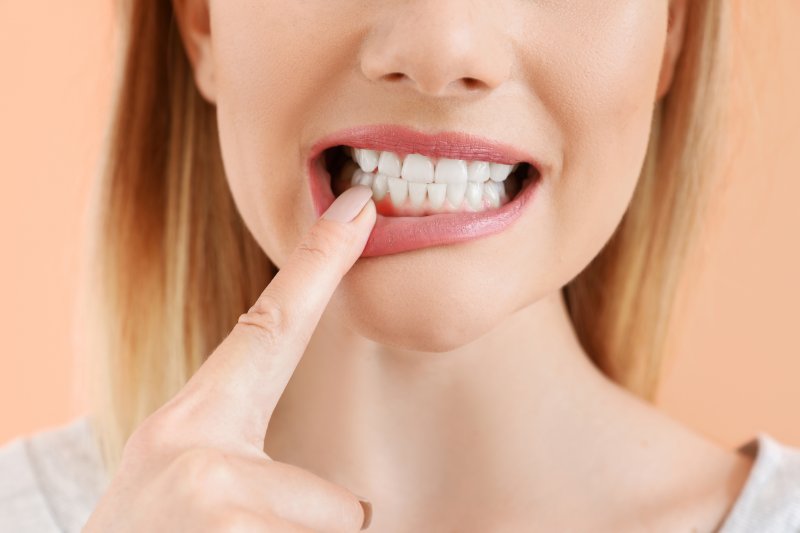 Do your gums appear red or swollen? Do you notice that they bleed when brushing or flossing? These early signs of gingivitis can be easily reversed with early detection, dental checkups and cleanings, and practicing good oral hygiene habits at home. But should you see your dentist right now? What about the threat of COVID-19? By allowing your recent development of gum disease in Sparta to remain untreated, you could be putting yourself at a much higher risk of contracting this highly contagious virus. Read on to learn why six-month dental visits are necessary, even amid a global pandemic.
How Gum Disease Can Lead to COVID-19
When harmful bacteria forms in your mouth, it can begin to attack to your gum tissue. What will initially start as minor bleeding, swelling, and redness can quickly escalate, resulting in potential bone and tooth loss as well as more serious health-related conditions.
Recent studies show a connection between gum disease and COVID-19. As inflammation and infection enter the bloodstream, it is believed there is a presence of the IL-6 protein, which can cause an increased risk for respiratory complications. As a result, if you suffer from gum disease, your immune system can weaken and cause you to develop problems within your lungs, putting you at an increased risk for pulmonary complications if you contract COVID-19.
Ways to Combat Gum Disease
No one wants to learn they have gum disease, but the truth is that millions of Americans are living with some form of it and do not even realize it. Fortunately, there are ways to minimize the possibility of it occurring in your mouth, including:
Brushing your teeth twice daily for two minutes using fluoride toothpaste and a soft-bristled toothbrush
Flossing at least once a day, preferably before going to bed
Rinsing with an antimicrobial mouthwash twice a day
Keeping your six-month dental checkups and cleanings with your dentist in Sparta
While it may seem to be an uncertain time to visit your dental professional for preventive care, it can be more beneficial than you think. Their trained eye and attention to detail can help in detecting early signs of gum disease. Should your dentist noticing any areas of concern, you can quickly work to minimize the risk of harmful bacteria attacking your gum tissue as well as prevent the likelihood of contracting COVID-19.
Your mouth doesn't have to be subjected to the negative effects of gum disease, nor does your body need to experience the potential complications caused by COVID-19. By taking charge of your oral health, you can experience a healthier smile and a stronger immune system.
About the Author
Dr. Zelia Cannon has more than 30 years of experience working in the field of dentistry. She and her team at Gentle Dentistry Sparta want to ensure optimal oral health for all patients, which is why during this time of uncertainty, they are happy to provide the necessary services to minimize the risk of tooth decay and gum disease. Offering treatments and preventive measures to mitigate problems that can weaken the immune system, Dr. Cannon can help decrease the risk of patients potentially contracting COVID-19. If you are suffering from gingivitis or more advanced gum disease and need proper care, visit our website or call (973) 729-9044.