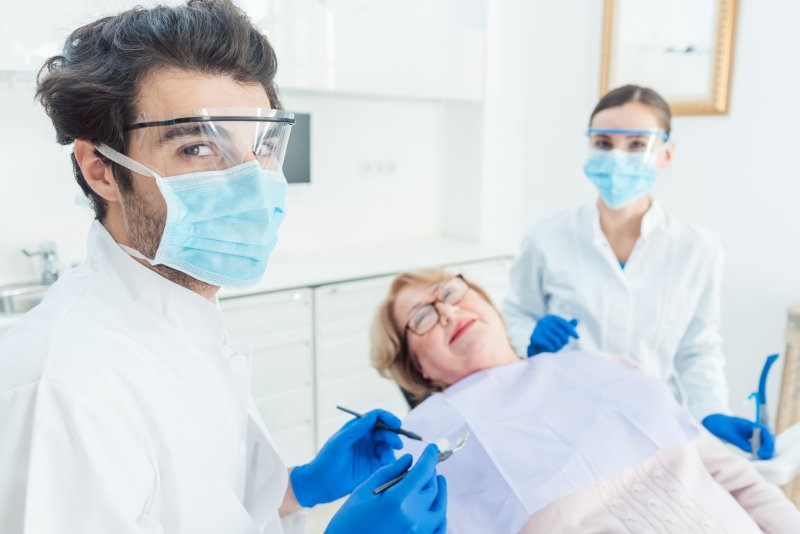 Many things have changed since the beginning of the COVID-19 pandemic. Grocery shopping, going to work, and even seeing your friends and family is more different now than it ever has been. In addition to all this, your dental office has been making changes. Read on to learn more from your dentist in Sparta about what the team is doing to prepare for your appointment and how things will be different from last time.
Social Distancing in the Office
Appointments are being managed so that it is easier to practice social distancing. This means that you may be offered fewer options when scheduling your appointment so that less people will be in the office at one time. This helps to create a safer environment with a decreased likelihood of spreading germs between each other.
Cleaner Office
The dental office has always been held up to high criteria when it comes to cleanliness. But now the team is doing even more. Your dentist is using a hospital grade antiviral and antibacterial air purification and filtration system. In addition to this, there is Extra Oral individual high-power suction for each patient in order to remove a high volume of droplets and aerosols produced during treatment. The office is also totally disinfected before and after each patient.
Patient Pre-Screening
Before you come into the office, the friendly staff will communicate with you and ask you some questions. These questions will be asked again when you arrive to the practice for your appointment. You will also have your temperature and oxygen level taken before you enter the building. When you come inside, you will be asked to use a hospital grade hand sanitizer that is being provided.
Safety Champion
Everyday, one member of the staff is designated to be a leader for the new dental safety protocols in Sparta. The responsibilities of this job include ensuring that social distancing regulations are being followed, addressing any questions and concerns, and overall monitoring of the office.
Daily Health Checks
Everyday, when the staff come into the office, they are being asked a brief set of questions regarding their current health. They are also having their temperature taken using a no-touch thermometer. This helps to ensure that they are not experiencing any COVID-19 related symptoms. This way, they can provide patients with safe dental care each day.
Protective Clothing
Normally, your dental team wears their scrubs in and out of the office. Now, they are changing into their freshly cleaned work clothes once they get to the practice. They will change back into their regular clothing before they leave. Your clinical team is also using N95 level 3 masks, face shields, protective lab coats, and scrub caps. This helps to ensure the safety of your team. When they are safe, so are you!
Just because the office has changed doesn't mean that you must neglect your oral health. Your dentist is doing everything in her power to create an environment that is safe for her staff and patients. This way, you can rest assured that you are protected.
About the Practice
At Gentle Dentistry Sparta, Dr. Zelia Cannon and Dr. Alena Ragheb Agha prioritize providing quality dental care in a safe environment. Dr. Cannon has been working hard in the field for over 30 years and is currently a member of the American Academy of Esthetic Dentistry. Dr. Agha has spent over 25 years in the field and holds memberships in numerous organizations including the Academy of General Dentistry and the New Jersey Dental Association. There team is taking many new dental safety protocols to keep patients safe during the COVID-19 pandemic. For more information or to schedule an appointment, visit their website or call (973) 729-9044.