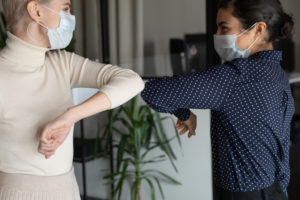 The COVID-19 pandemic has changed many aspects of our lives, including how we connect with one another. From dialing into video conferences to wearing masks in public spaces, new habits and precautions are necessary to help contain and defeat the coronavirus. Social distancing is even necessary when visiting the dentist's office. Are you a hugger? Do you love your dental team? While the feeling is mutual, greetings that involve physical touch will have to be put on pause while COVID-19 still presents a threat. But do not let this fact dampen your spirits! Here are some creative ways you can connect with your dentist in Sparta and their dental team with minimal touching at your next dental checkup.
#1: The Elbow Bump
Elbows are the new hands! While the novel coronavirus is still present, many experts say bumping elbows is the smart alternative to shaking hands. Elbows are often covered by sleeves and an elbow bump is usually quicker than a typical handshake, which may help reduce the spread of germs and particles. Most importantly, however, is the fact that you cannot touch your own face with your elbow and accidentally infect yourself.
#2: The Toe Tap
Some folks are being even more cautious by substituting a toe tap for a handshake. Toe-tapping involves lifting your foot and gently tapping the other person's lifted foot in midair. Of course, whenever you get home and take off your shoes, you should always be sure to wash your hands afterward. 
#3: Namaste
If you want to tap into your inner yogi, you could adopt "Namaste," a traditional greeting in India. The Namaste gesture involves holding both hands pressed together in front of your chest, palms touching and fingers pointing upward, then bowing your head slightly.
#4: Smile and Wave
Sometimes the simplest greeting is still the best. Your dentist and their dental staff will be happy if you say hello or goodbye with just a smile and a wave of the hand.
Additional Dental Safety Protocols in Sparta
Avoiding customary physical contact is just one new dental safety protocol in Sparta. Many dentists are implementing a full range of new health and sanitation rules and procedures to reduce the risk of infectious disease transmission, such as:
Pre-screening every patient with a quick health questionnaire and contactless temperature check
Virtual "teledentistry" appointments via a secure, patient communication portal
Fewer chairs in the waiting area to make social distancing possible
Personal protection equipment (PPE) will be worn by your dental team to minimize the spread or absorption of airborne particles
Cleaning treatment areas after each patient and deep-cleaning the entire office each night
To find out what actions your dentist in Sparta in taking to ensure your next visit is as safe as possible, do not hesitate to pick up the phone and give them a call. And remember, when you arrive to the dentist's office, say hello to your dental team with one of the 4 creative greetings listed above!   
About the Author
Dr. Zelia Cannon has helped Sparta residents achieve and maintain healthy smiles for over 30 years. She and the team at Gentle Dentistry Sparta are closely following the recommendations of the American and New Jersey Dental Associations throughout the COVID-19 health crisis. To keep up to date with health and safety notices from Gentle Dentistry Sparta, visit their website or call 973-729-9044.