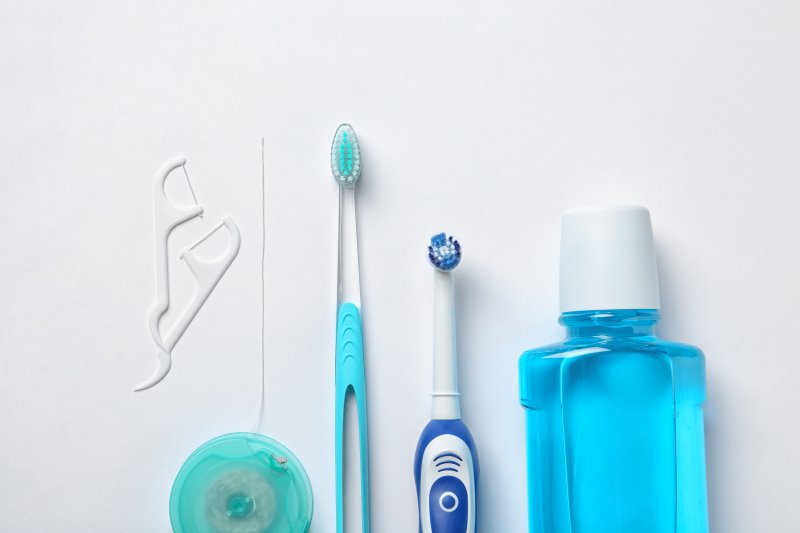 Your dentist in Sparta wants what is best for you and your smile. Since dental offices are currently closed throughout the country, regular checkups and cleanings are not possible. As a result, it is up to you to maintain your oral health until they reopen. But how can you improve on what you're already doing? If you practice regular brushing, flossing, and rinsing, that is great; however, your smile may be lacking its full potential. If you want it to look and feel its best, consider the following tips to help your smile truly shine while at home.
Don't Just Brush…Do It the Right Way
Believe it or not, there is a right and wrong way to brush your teeth. If you're not following the recommended steps, you may find that your teeth aren't as healthy as they could be:
Make sure you're brushing for a full two minutes. This is the amount of time it takes to effectively remove bad bacteria and other debris.
Use fluoride toothpaste to combat tooth decay and strengthen enamel. It is found in most toothpaste products but always read the label to be sure.
Your teeth deserve a gentle touch, so don't brush too hard. Gentle back and forth strokes are all they need. If your bristles are becoming frayed, you're either brushing too hard or it's time to replace your toothbrush.
Don't forget about brushing the backsides of your teeth as well as your gum line. Food particles can become trapped in these small crevices, which is why they deserve a proper brushing, too.
Go to Bed with a Fresh Smile by Flossing
You may be prone to flossing your teeth in the morning, which is fine, but if you want a longer-lasting clean, try waiting until bedtime. Why? Throughout the day, you eat and consume all types of items that can leave bacteria and debris behind. If you've already flossed your teeth that morning, the remnants will stay on your teeth all day and night.
By choosing to floss your teeth before bed, you will spend the next several hours with a cleaner, healthier smile.
Incorporate More Water into Your Diet
Water is vital to living a healthy life. Not only is it beneficial and necessary for your body, but it can do wonders for your smile, too. Apart from its ability to flush out toxins and keep you energized and hydrated, but it is also capable of increasing your salivary gland production. This is important because you need these to flush out your mouth when eating, to remove any harmful food particles and debris from sticking to the chewing surfaces of your teeth and potentially causing tooth decay, cavities, or gum disease.
Look for the Seal of Approval
When buying toothpaste, make sure you look for a product that contains the American Dental Association's (ADA) Seal of Approval. This ensures the toothpaste has been tested and that it is safe and effective at preventing cavities and other harmful dental diseases.
Schedule Ahead of Time
If you want one more piece of advice while sitting at home and waiting to see your dentist, don't wait to schedule your appointment. Once they announce their reopening, you and hundreds of others will be scrambling to get in as soon as possible. Stay ahead of the game and make your appointment sooner rather than later.
By following these simple oral health tips in Sparta, you will be in a much better position when it's time for your regular checkup and cleaning.
About the Author
Dr. Zelia Cannon has more than 30 years of experience working in the field of dentistry. She and her team at Gentle Dentistry Sparta want to ensure optimal oral health for all patients, which is why during this time of uncertainty, they are happy to provide helpful tips on ways to improve smiles while at home. Although unable to perform regular checkups and cleanings, they invite patients to call and inquire about recommendations and advice for achieving healthier teeth and gums. If you need assistance and want to know more about what you can do to stay healthy at home, contact us by visiting our website or calling (973) 729-9044.